DL Light-DL Industry Group Limited is top 10 led flood light manufacturer in China, owns 2 Led Light factories. Good quality, Cheap Price, Excelent Service.

Following is the specfication:


| | |
| --- | --- |
| Type of lighting | Outdoor Led flood light |
| Other Name | outside Led flood light, landscape Led flood light, exterior Led flood light, garden Led flood light |
| Power | 50W |
| Input votage | AC85-265V, or customized |
| Frequency | 50HZ-60HZ |
| Size | 205*245*60mm |
| Housing Material | Aluminum |
| Surface Treatment | Corrosin proof powder coating spraying |
| Light Source | LED SMD |
| Power factor | >0.95, or customized |
| Luminous Efficiency | 100Lm/W, 120Lm/W, 150Lm/W, or customized |
| Chip brand | Philips Lumileds, Epistar, Cree, or customized |
| Driver brand | Philips, Meanwell, or customized |
| Color temperature (CCT) | 2800K-6500K, Soft white, Warm white, Neutral white, Cool white, Daylight |
| Working temperature | -40ºC~50ºC |
| Watterproof | IP65/IP67 |
| WARRANTY | 2/3/5 Years, or customized |
50w flood light price: USD2.93/pcs EXW - 20.28/pcs EXW
Specification different, model different, price different. Better price, please Inquiry us.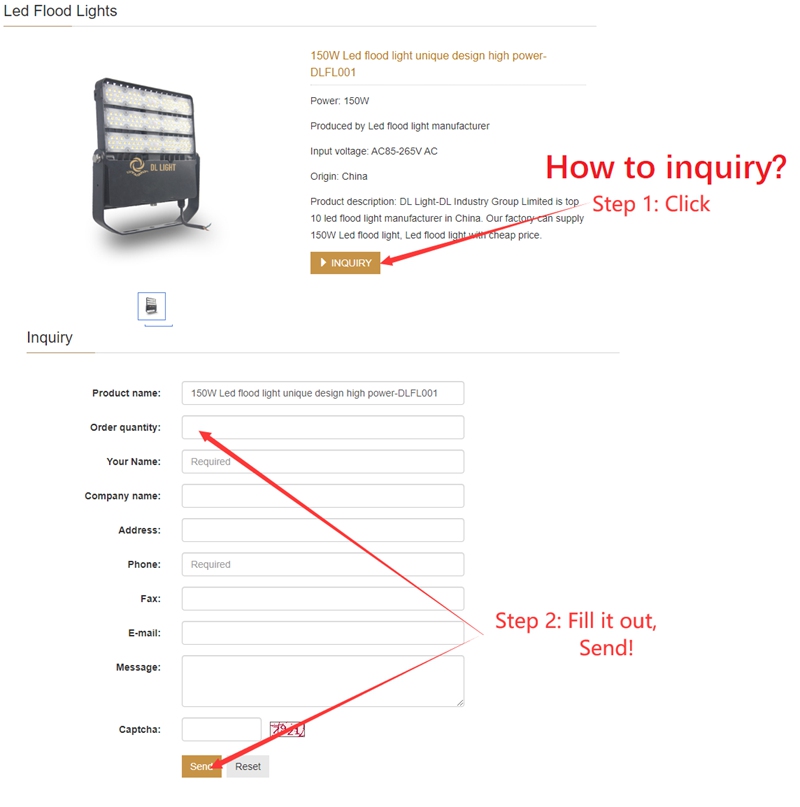 The price of the Led street light with same design and different power:
50W led flood lights for Africa
50w flood light price: USD2.93/pcs EXW - 20.28/pcs EXW
100W flood light with good heat dissipation
100w flood light price: USD5.19/pcs EXW - 36.73/pcs EXW
150W flood lights for high temperature area
150w flood light price: USD6.57/pcs EXW –45.83/pcs EXW
200w flood light price: USD10.99/pcs EXW – 50.18/pcs EXW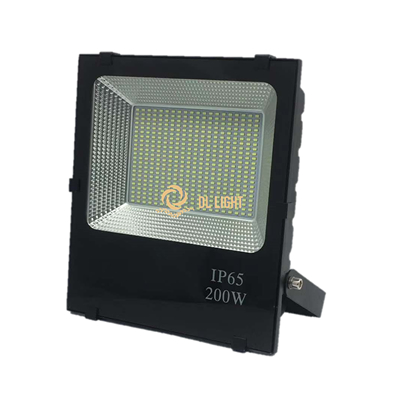 Application:
1.Led parking lot lighting retrofit, led shop box light retrofit, led area lighting retrofit.
2. Lighting for the buildings or landscape
3. Lighting for advertising board
4. Lighting for gymnasium
5. Lighting for petrol Station
6. Warehouse, yard, plaza and other open area lighting.
7. Lighting for road, highway, etc to replace the street light.
DL Light Advantage:
1. DL Light entered light industry in 2002, DL Light has 15+ years' experience. DL Light is the top 10 LED flood light manufacturer
2. DL Light has 2 factories and 1 sales center, 150+ staff, can design & produce led flood light, led street light, solar flood light, solar street light, high bay light, tube light, bulb, etc.
3. Produce and sales 650+ models lights with different power, produce1.4 million pcs/year led flood light, led street light, solar street ight, solar flood light, high bay light, tube light, etc.
4. Strong ability of R&D
5. Service 300+ projects all over the world
6. Export to 25+ countries
7. Pass SGS inspection, RoHS and CE test, follow ISO quality control system
8. Reliable Quality
Why choose this one from us?
DL Industry Group Limited. As one of the top 10 LED flood light manufacturers in China, DL Industry Group has two factories that produce high-quality LED flood lights with cheap price.
This model LED flood lights are designed for African markets. They come in a variety of powers ranging from 50W to 500W, so you can find the perfect fit for your needs. The lights are also designed to be energy efficient, helping you save money on your electricity bills.
In addition to providing quality products, DL Industry Group also offers excellent customer service. Their team is always available to answer any questions or concerns you may have about their products and services. They also provide technical support and after-sales service, so you can rest assured that your purchase is in good hands.
When it comes to buying LED flood lights, DL Industry Group is the perfect choice for those looking for a reliable and cost-effective solution. Their products are made with high-quality materials and are designed to last for years to come. Plus, their prices are competitively priced so you can get the best value for your money.
So why buy your LED flood lights from DL Industry Group? With their quality products, excellent customer service, and competitive prices, they offer everything you need in a reliable and cost-effective manufacturer. Plus, they have years of experience in the industry so you can trust that they will provide you with the best possible product at an affordable price. So don't wait any longer - get your LED flood lights from DL Industry Group today!